Products
Products:

0

piece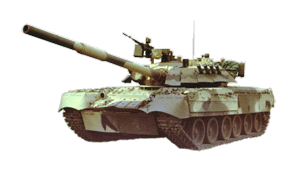 enlarge image

PRINT VERSION
T-80U
Main battle tank
The T-80, manufactured by Transmash of Omsk, appeared as production model in 1984, retaining the basic features of the T-64 series (including the 125mm smoothbore gun with autoloader). Major innovations included the first Soviet use of a gas turnine engine, providing increased speed and power, and the first use of a laser rangefinder providing major improvements in fire control. The T-80 is very similar in appearance to the T-72. It incorporates features common to both the T-64 and T-72, especially in weaponry. Easily distinguishable features of this tank as compared with the standard T-72 are the attachment of side skirts and twelve turret-mounted grenade launchers with seven on the left side and five on the right side.

The T-80 was the first Soviet operational tank to be powered by a gas-turbines, with a GTD-1000 gas-turbine engine developing 1100 hp. The road wheel spacing is not identical, with distinct gaps between the three pairs of road wheels. To extend the operational range of the T-80, additional fuel tanks can be mounted at the hull rear, which can be quickly jettisoned if required. A large circular container mounted on the turret rear carries two snorkels for deep fording operations. The larger one provides an air intake for the gas-turbine, with the other being fitted onto the radiator grill.

T-80U: First observed in 1989 and referred to by NATO as the SMT (Soviet Medium Tank) M1989. The new turret has an improved frontal armor package with second generation explosive reactive armor. This version is equipped with the 9K120 Svir (AT-11 Sniper) laser-guided anti-tank missile in place of the older Kobra. Other improvements include a more powerful and fuel efficient gas turbine engine (GTD-1250, developing 1250 hp).
Used together with: