Products
Products:

0

piece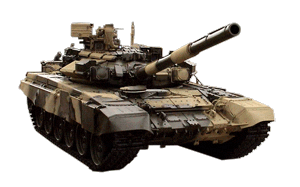 enlarge image

PRINT VERSION
T-90S
Main battle tank
Derived from the T-72, the GPO Uralvagonzavod T-90 main battle tank is the most modern tank in the army arsenal. The successor to T-72BM, the T-90 uses the gun and 1G46 gunner sights from T-80U, a new engine, and thermal sights. Protective measures include Kontakt-5 ERA, laser warning receivers, and the SHTORA infrared ATGM jamming system.

By 1992 the Russian Defense Ministry announced that it could no longer afford to manufacture two MBTs in parallel. Since both the "quality" T-80U and the cheaper "quantity" T-72B were each being built at one plant, and each plant was critical to the economy of the city it was in, the Government gave small orders to both. Omsk built five T-80Us and Nizhni Tagil 15 T-72s, and both built more against the hope of winning large export orders. Nizhni Tagil had built a few T-72BMs, T-72Bs upgraded with a third generation add-on Explosive Reactive Armor (ERA) called Kontakt-5, which was already in service on T-80U.

To further improve the T-72's export prospects and its chances of being selected as Russia's sole production MBT, the T-80U's more sophisticated fire control system was also added to produce a vehicle designated T-72BU. Finally, since worldwide news coverage during Desert Storm had firmly established the image of the T-72 as a burning Iraqi tank, the new model was renamed T-90. The T-90 went into low-level production in 1993, based on a prototype designated as the T-88. The T-90 was developed by the Kartsev-Venediktov Design Bureau at the Vagonka Works in Nizhniy Tagil. Initially thought by Western observers to be an entirely new design, the production model is in fact based on the T-72BM, with some added features from the T-80 series. The T-90 features a new generation of armor on its hull and turret. Two variants, the T-90S and T-90E, have been identified as possible export models. Plans called for all earlier models to be replaced with T-90s by the end of 1997, subject to funding availability. By mid-1996 some 107 T-90s had gone into service in the Far Eastern Military District.
Used together with: