Products
Products:

0

piece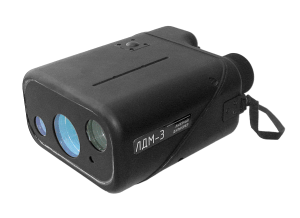 enlarge image




PRINT VERSION
LDM-3 NEW!
Small size laser range-finder
LDM-3 is intended for terrain observation and determination of the target range in the daytime as well as in twilight and at night under natural illumination with the help of night vision tube.

LDM-3 is used for range measuring to the object, located at a distance from 100 to 15000 m, at ambient temperature from -20oC to 40oC and relative humidity up to 100%.

LDM-3 emits laser impulse to the target, receives radiation reflected from the target, determines period of time between emittedand received signal and according to the target. Information about distance is displayed in the sighting channel.

Specifications

Magnification, x

6

Field of view, deg

6

Resolution limit, "

10

Distance range max, m

15000

Distance range min, m

100

Laser wave length , um

1,54

Power supply

4xAA battery

Supply voltage, V

from 4 to 6

Number of range measurements without recharging of the power supply under normal climatic conditions

200

Eye relief, mm

20

Exit pupil, mm

4

Diopter abjustment, D

±5

Overall dimensions , mm

190х141х82,5

Weight, kg

2.0