Products
Products:

0

piece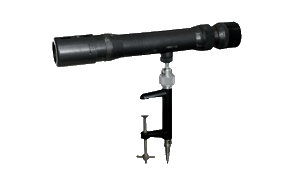 enlarge image



PRINT VERSION
MP
Pancratic Monocular
It is intended for terrian observation and viewing the various objects removed at a distance up to 6000 m from the observer and for determination of the range in the day-time.
The monocular is provided with a bracket for fixation to the various objects (a tree, stub and so on).
The removable light filter and blind make it possible to increase the image contrast of the objects to be viewed.

The night resolution, smooth change of magnification, wide range of the eyepiece diopter setting ensure a wide use of the monocular by nature-lovers, mountain-climbers, tourists and hunters.
The monocular operates at the ambient temperature from 40 to -20oC and relative humidity of 98% at the temperature of 25oС.
Specifications

Visible pancratic magnification
from 4 to 20
Angular field of view,...
from 1030' to 8048'
Resolution,...", 4x/20x
20/10
Diopter setting of eyepiece, D
from -5 to 10
Overall dimensions , mm
265x42x190
Weight, kg, of the device/of the tripod
0.5