Products
Products:

0

piece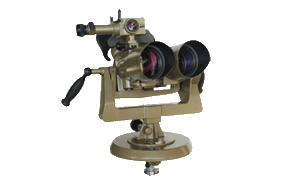 enlarge image



SERVICE MANUAL

PRINT VERSION
PNB-3
Binocular Observation Device
Binocular observation device PNB-3 "Sokol" is designed for observation and determination of angular coordinates of objects observed from the stationary and temporary observation posts by day and night by the light of searchlights.

The device uses a high-effective optical train and high-quality optics, providing an excellent quality of image, high resolution in the whole of field of view, high rate of light capacity.

The binocular consist of two telescopes with two parallel optical axes. The telescopes are connected with the help of a mechanism which allows to change the interpupillary distance by rotation of handwheel. There is an angle-measuring reticule in the field of view on the right telescope of the binocular.

The changeable light filters are put on the eyepieces if necessary. The neutral light filters used at bright light, for example, by sunny day, the light-orange ones are used when it is dull in order to increase the contrast of the object to be observed. The blinds are put on the casings of the telescopes to prevent penetration of sunshine. For easy observation the binocular telescope is provided with soft elastic rubber headrest. The headrest can move in the axial and traverse directions to align an observer's pupils and exit pupils of the device. Dehydrator plugs intended for protection of the optical pieces inside the device against sweating are secured in the lugs positioned in the lower section of the telescopes. The portable lamp is used for illumination of the outer scales. With the help of a holder the portable lamp is suspended on the tripod cramp. In the process of operation the device is mounted on the tripod.

The device can be operated at various districts of the world.
APPLICATION:
Observation for objects at sea and mountainous country
Security
Police use
Military use
Protection of various objects
Specifications

Observer's telescope:
Magnification, fold
10
Field of view, deg
7
Resolution in the centerof the field of view,..."
5
Range of measuring:
The angles, degree, the angles of elevation/the traversing angles
from -18 to 84/360
Tell-tale pipe:
Magnification, fold
8
Field of view, degree
6
Resolution in the center of the field of view,..."
8
Diopter setting of the eyepieces, D
5
Overall dimensions , mm:
Of the device without a tripod
450х445х420
Of the packing case
566х532х316
Mass, kg, maximum:
of the device
16.5
of the tripod
6.2
of the system of illumination
0.44
of the accumulator in the housing
2
of the device packed
53.12