Products
Products:

0

piece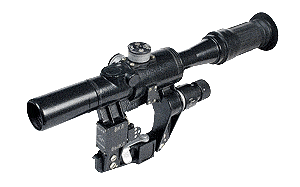 enlarge image



SERVICE MANUAL

PRINT VERSION
PO2,5x18
Day Optic Sight
Optical sight PO2,5?18 ( here and after as sight) is intended for mounting on hunting and sporting rifled guns. The sight ensures easy and precise aiming of gun in the various conditions of visibility and atmosphere at the ambient temperature from –40C to 40 °C.

The sight has a two drums provided with the scales which can input the required corrections in the vertical horizontal planes in registration and firing.

To increase a contract of image one should put an orange light filter on eyepiece of sight.

The sight is provided with illumination system of aiming reticule. For supplying one makes use of cell AA (1.2 . . . 1.5) V.
Specifications

Visible magnification, fold
2.5
Angle field of view, deg
11
Resolution limit, …."
15
Diameter of the exit pupil, mm
7.2
Eye relief, mm
65
Diopter setting of eyepiece, D
from –0,5 to –1
Overall dimensions, mm
375x136x72
Weight, kg
0.6
Used together with: