Products
Products:

0

piece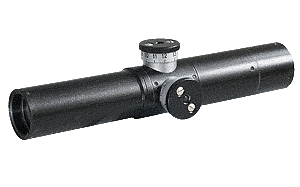 enlarge image



SERVICE MANUAL

PRINT VERSION
PU3,5x22
Hunting optic sight
Hunting sight PU 3,5x22 (further in the text – sight) is intended for mounting on different types of sporting and hunting weapon. Sight may have a diameter of a slot of 25,4 (1") or 26,5 mm.

The sight has two handwheel with scales for making necessary corrections in vertical and horizontal planes when zeroing in and firing.
The sight can be used under the ambient temperature from -40 to + 40 ?C and relevant humidity not more than 93% at the temperature 25 ?C.
Specifications

Magnification, x
3.5
Field of view, deg
4.5
Exit pupil
6
Eye relief
72
Diopter adjustment, d
from -0,5 to -1
Mount diameter
25,4 (1") or 26,5
Value of an upper handwheel point, deg/cm/100m
6.2/7
Value of a side handwheel point, deg/cm/100m
8.85/10
Overall dimensions, mm
170x42x42
Weight, kg
0.4
Used together with: