Products
Products:

0

piece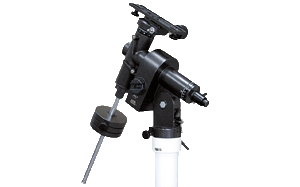 enlarge image



PRINT VERSION
MT-3S
German Equatorial Mount
Rigid heavy-duty user-friendly mount with electically driven right ascention axis equipped with stepper motor. The mount has warm gearing drives on both right ascention and declination axes. In addition to elecrical drive the mount has both axes manual driving. Drive corrector having stellar, solar and lunar speeds, acceleration and deceleration possibilities and a red light is provided with the mount. The mount has a polar finder with illuminated star patterns for convenience of use.

The mount has units for adjustments according to latitude within 0...70 degrees limits and in horizontal plane. This solution makes the process of polar axis orientation more convenient. The stepper motor can be powered from 220V power supply or as an option can be furnished with special cable allowing powering from car power supply.

The mount can handle optical tube assemblies weighting up to 20 kg.