Products
Products:

0

piece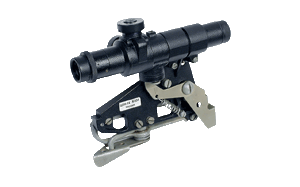 enlarge image



PRINT VERSION
ZLN-1K
Night Vision Laser Aiming Device
The night vision laser aiming device ZLN-1K in a complex with the night vision goggles PN-14K is designed for aiming a gun (carbine "Saiga') and for operation as an illuminator at night time.

The operation temperature range of the aiming device is from 40 to -35°C and relative humidity should be not more than 95% at a temperature of 25°C.

The power supply is provided from one cell of AA type-dimension.
Specifications

Operation range of the aiming device (under the illumination 0.1 lk and less and the clarity of the atmosphere 0.85±0.15), m
150
Beam of light angle
up to 1'
Adjustment mechanism scale
up to 1.3'
Beam of light angle (in illuminator regime)
3°
Output power, mWt
0.5-5
Voltage, V
1.5
Operation time without recharging (at a temperature 20°C), h
6
Overall dimensions, mm
145x50x130
The weight of the aiming device (without power unit), kg
0.38
Used together with: