Products
Products:

0

piece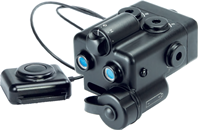 enlarge image



PRINT VERSION
ZLN-2KMM NEW!
Laser Aiming Device
Laser aiming device ZLN-2KMM is consists of a visible aiminglaser and a infrared (IR) aiming laser. The device is intended for precision aiming and targeting by means of dot which is formed by the device in one of two spectral ranges:
– Visible (red dot) for naked eye observation in low light condition;
– Infrared (IR dot) - for observation in night time with Night Vision Device.
FEATURES
Remote switch
Aiming lasers are co-adjusted
Two operating modes in visible range (constant/pulsed)
Two operating modes in infrared range (low /peak power)
Operating mode indicator
Low battery indicator
Light weight and small overall dimensions
Sealed housing

Specifications

Wavelength, nm :
– Red dot
– IR dot



655
845


Operating distance, m, not less than:
– Red dot (under illumination not more than 100 lx)
– IR dot


100

200

Maximum output power, mW:
– Red dot
– IR dot:
low mode
peak mode



4,8

1,0
2,5

Divergence, mRad

0.5

Adjustment interval, mrad

0.3

Dot size at the distance of, mm
– 25 m
– 50 m
– 100 m


20
40
80

Windage and elevation adjustment, mRad

±8 (1.6 m/100 m)

Click value, mRad, not more than

0.4 (40 mm/100 m)

Power supply

CR123х1, 3V

Runtime (at a temperature of 20 °С), h

20

Operating temperature, °С

+40 to -30

Dimensions, mm, not more than

80x57x54

Weight, kg, not more than

0.2