Products
Products:

0

piece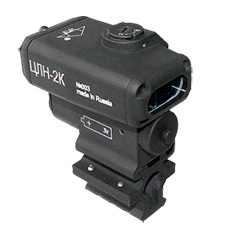 enlarge image



PRINT VERSION
ZLN-2K
Laser Aimiming Device
Intended for weapon aiming on target with the help of spot light, which is formed by Laser Aiming Device in one of two spectral ranges:
- visible (red colour spot) for observation under twilight and daylight conditions
- infrared – for observation at night with the help of night vision devices.
FEATURES
Has remote switch.
Adjustment mechanism allows to regulate both channels simultaneously.
Resistance to shooting acceleration – not less than 400g.
Can be mounted on standard "Picatinny" rail.

Specifications

Visible red pointer

IR pointer

Operation range, m

100

150

Wave length, nm

635

850

Output power, mWt

5

5

Beam intensity divergence angle, mrad

0.3

Adjustment interval, mrad

0.3

Power supply, V

3

Operation time, hours

6

6

Weight, g

230

Overall dimensions, mm

85x64x51
Used together with: