Products
Products:

0

piece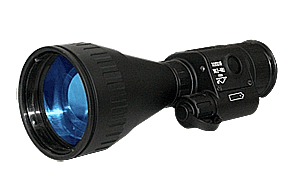 enlarge image




PRINT VERSION
PN21K-3x
Night vision monocular
Monocular is intended for operation at night under natural illumination and in the complete darkness with the switched on infrared illuminator.
Usage of IIT Generation 2+ allows to observe under illumination of (3-5)x10-3 lx, and with IIT Generation 3 - under illumination of (3-5)x10-4 lx
Monocular has metal or plastic dampproof body and can be used for hidden surveillance and ground movement, maps reading, repair of technical equipment and etc.
It's design allows to combine two monocular into one night vision binocular with 1x or 3x magnification.
Completed with infrared aiming device or collimator sight, the monocular can be used for sighting while shooting.
FEATURES
IIT generation 2+ or 3;
removable protecting cap on the objective lens foroperating under high light conditions;
additional 3x and 5x objective lenses;
soft rubber eyeshield;
IR-illuminator on indication;
low battery indication;
possibility of mounting on a head or helmet;
possibility of shifting the monocular in vertical direction and from eye to another on the headmount;
possibility of mounting on a weapon with the help of adapter bracket on the "Picatinny" rail;
rigit dampproof design;
operating temperature range from -50°C to +50°C, low temperature is limited by type of battery
Specifications

Magnification, x
3
Field of view, deg
13
Eye relief, mm
30
Exit pupil diameter, mm
25
Ocular diopter abjustment range, D
±3
Power supply
1xAA; 1.5V
Battery life for continuous work without IR illuminator on at the temperature of +20oC, h
24
Objective lens focus, mm
80
Objective lens diameter, mm
57
Focus range, m
10-?
Identification range with IIT Gen 2+/3, m
300 / 400
Overall dimensions, mm
238х76х72
Weight, g
580