Products
Products:

0

piece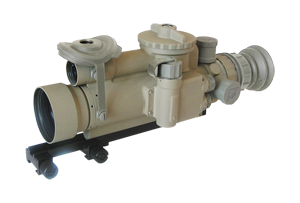 enlarge image



PRINT VERSION
PN22K
Combined Day-Night Sight
The sight is intended for terrain observation and aimed fire from small arms in the daytime and at night under natural illumination from (3-5)x10-3 to 1.5 lx.

Usage of IIT of Generation 2+ allows to observe under illumination (3-5)x10-3 lx, and IIT of Generation 3 – under illumination of (3-5)x10-4 lx.

Sight can be mounted on the different kinds of the hunting weapons with side or top mounting.

Design of the sight ensures permanence of aiming line while turning from day mode to night mode, as well as using additional IR illumination for operation under complete darkness.

Sight is designed to operate outdoors within a temperature range of -40 to +40?C and relative humidity up to 95% at the temperature +25?C.

Specifications

Magnification, x

3

Field of view, deg

12

Eye relief, mm

50

Exit pupil, mm

7

Diopter adjustment, D

-4+5

Recognition range at night, m:

with IIT of 2+ Gen.:

350

with IIT of 3 Gen.:

450

Power supply

1xAA; 1.5V

Readiness time after switching on, sec

4

Operation time (with illuminator switched off), hrs

16

Weight, kg

1.3