Products
Products:

0

piece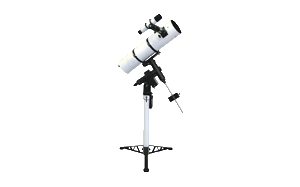 enlarge image



SERVICE MANUAL

PRINT VERSION
TAL-150P Newtonian
Astronomical Telescope
A Newton astronomical telescope having a diameter of mirror of 150mm and focal length of 750mm is an excellent product that to allow making an observation and high qualitative photographs of celestial objects having a pellucid capacity up to 12". A high qualitative parabolic mirror (К/10) provides an image of observed objects without any distortions. A large relative aperture f/5 increases considerably a brightness and contract of observed object and to reduce the time of exposition.

Telescope is completed with finderscope of 8x and two eyepieces f'=7.5mm and f'=25 mm. Telescope has a multi-coated brighten optics. In additional it is completed with 2x Barlow lens and light filters. In photography one uses a fitting bracket with the thread of 42x1mm and 42x0.75mm.

Equatorial mounting can be mounted on the metal pier and supports or tripod. The telescope is provided with the highest possible comfort and easiness in observation and to make any requirements of amateur astronomer as well.
Specifications

Aperture, mm
150
Focal length, mm
750
Focal ratio
1:5
Resolving power
1"
Limiting visual magnitude
12m
Magnification, min
30x (f=25mm)
Magnification, max
200x (f=7.5mm & Barlow 2x)
Optical scheme
Newtonian
Range of slow-motion control on the axes within
±180°
Latitude range of mounting
0...70°
Focuser
2"/1.25"
Magnification of the finderscope
6x
Angular field of finderscope
8°
Voltage of the supplying mains, V
220 (110) ±10%
Current frequency, Hz
50 (60)
Output voltage of the supply unit, V
12
Dimensions, mm
850x910x1620
Weight of the telescope, kg
25
Weight of the telescope packed, kg
30