Products
Products:

0

piece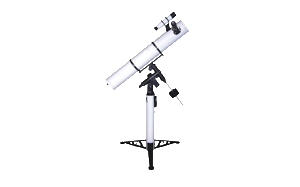 enlarge image



SERVICE MANUAL

PRINT VERSION
TAL-150P8 Newtonian
Astronomical Telescope
The telescope is designed for visual observations of celestial objects and for astronomical photography. It requires careful treatment and some knowledge of astronomy. Only in this case the use of telescope will bring satisfaction to its owner.
The telescope may be used at an ambient temperature ranging from 30° to -30°C.
When buying the telescope inspect the package to make sure that the original packaging is in good condition, and seals are not broken or missing. Having opened the package, check the presence of all components described in inventory list.
Read instruction manual first before using the telescope.
Specifications

Aperture, mm
150
Focal length, mm
1200
Mirror Surface
parabolic
Focal ratio
1:8
Diagonal mirror diameter, mm
30
Telescope magnification, x
48; 96; 160;320
Resolving power
1"
Limiting visual magnitude
12.5m
Finderscope magnification, x
8
Finderscope aperture, mm
50
Focuser
1.25"; 2"
Equatorial mount
MT-3S
Right ascension turning angle
360° (24 h)
Declination turning angle
±90°
Latitude adjustment range
0...70°
Input voltage V AC
220 (110)
Frequency, Hz
50 (60)
Power, Watts
10
Output voltage, V
12 DC
Dimensions, mm, OTA* length/Telescope height
1200/1700
OTA weight, kg
8.5
Telescope weight, kg
35