About us
contact information
Phone:
007(383)216-08-76
007(383)226-07-65
Phone/Fax:
007(383)226-15-94
179/2, D. Kovalchuk str.,
Novosibirsk, 630049, Russia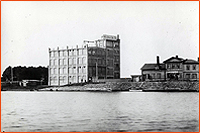 "Carl Zeiss" optics workshop,
1912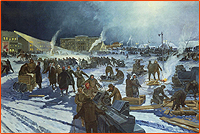 There will be a plant here, 1941. painter G.Frolov.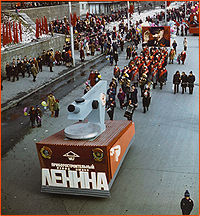 Festive demonstration
on 1st May, 1982
COMPANY HISTORY

JSC "Shvabe - defense and protection" is the oldest optical-mechanical plant in Russia (founded in 1905) possessing both scientific-technical and production potential for the development of optical-mechanical and optical electronic devices of civil and special purpose.


The plant accumulated significant and theoretical experience, developed unique technologies and precision technological equipment. The brand-new developments incorporate perspective element base - electronic-optical devices of second and third generations, programmed microcomputers, TV- and thermal devices with optical electronic systems of processing information.

The plant presents its products at the international exhibitions and participates in state tenders for delivery of special and defense equipment independently and in cooperation with state intermediary JSC Rosoboronexport. High scientific and technical potential, advanced production facilities allow the company to expand and update the products manufactured at the advanced level and improve their quality permanently.